Hey look everybody! It's a really crappy picture of legendary radio personality George Spankmiester. And a bunch of groupies. Ok really that's Max Collins and his wife. They got tattooed but Spank didn't want to mar his flawless skin. So we ran him over in the parking lot and tattooed his ass while he was out.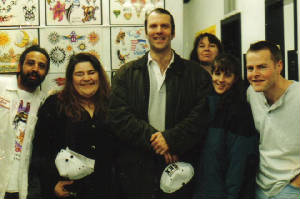 That didn't really happen. He saw us coming and climbed the telephone pole outside the shop. Stayed up there all day too. had to open a can of tuna fish to coax him down.
What the hell? He fed dogfood to his intern, seemed fair at the time.
Jim and Margaret Peters with William Forsythe and Andrew Divoff at the Inkslingers Ball in Hollyweird CA.